Proms and Leavers balls
Your school prom is a unique occasion that will never be repeated - trust it to the professionals.
Capture the fun and excitement of your special evening with photographs that will become keepsakes for many years to come for you, your friends and your family.

You can book Nakphotography to attend your school prom free of charge.
Many schools and colleges book NakPhotography year after year, so we get booked up very quickly.
We don't charge to attend proms, so please make contact with us as early as possible to avoid disappointment.
A simple call or email will allow us to pencil your prom date into our diary whilst you decide if you'd like to make a booking.

If you'd like to see a short promotional video showing how we cover proms then please click here.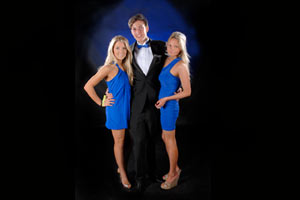 Whichever package you select, you will receive...
Free attendance.

There is no cost to the organisers and no minimum spend.
A professional and experienced photographer

In these days of digital photography, anyone can claim to be a photographer. We however do this for a living with clients such as Merecedes-Benz, Chanel, Body Shop and Lloyds TSB Bank amongst many others. Trust your prom to a professional.
A full professional studio set up with backdrop and studio lighting.

You'll get the same quality studio that we use with our corporate clients - we don't do mottled blue school photo backgrounds.

Take your photos home on the evening.

NakPhotography is proudly sponsored by Mitsubishi, who are the market leaders in professional photo printers. This means that you will get the finest quality prints to take home.

Free ticket printing.

We will print your prom tickets - free of charge. Simply send us your design or just the details of the event and we'll design it for you.We'll then professionally print and emboss a ticket for every guest attending your prom and send them to you for distribution at no charge.

Equipment and staff.

If your photographer doesn't have the right equipment and experience then you may find that your guests spend more time queuing for their photos than on the dance floor. We bring the right equipment and staff for the size of your prom, and our systems are capable of printing 1,000 photos per hour where required.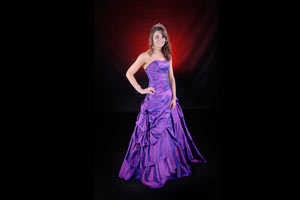 Option 1
We attend your prom or leavers ball free of charge.
Guests can purchase their photos on the evening and take them home.
Photos may be purchased with cash or debit / credit cards.
The large (9"x6") mounted photos are charged at £10 each, or a package of 3 photos for £25.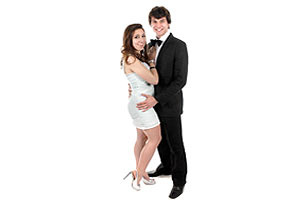 Option 2
We attend your prom or leavers ball free of charge.
Guests can purchase their photos in advance at a reduced cost, or on the evening at the regular price as in Option 1 above.
Some schools sell the photo tickets separately, others include the photos in the cost of the prom ticket.
Prepaid photos are charged at a discounted rate of £8 each or 3 for £20.
The school or committee collects the money in advance and supplies us with a cheque on the evening of the prom for the number presold. We then issue you with credit card type tokens which are distributed to guests and which are in turn exchanged for the photographs at the sales desk.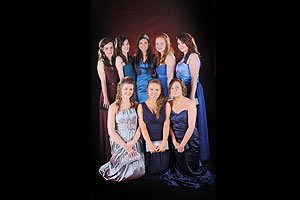 Option 3
Similar to the above, but rather than being an optional item, the school or committee will include the cost of the photo in every ticket so every guest receives a photo, or a package.

The photo price is dependent upon the total number of guests but can be even more competitive than option 2 for larger numbers attending - please contact us for more information and to discuss your requirements.